Squadron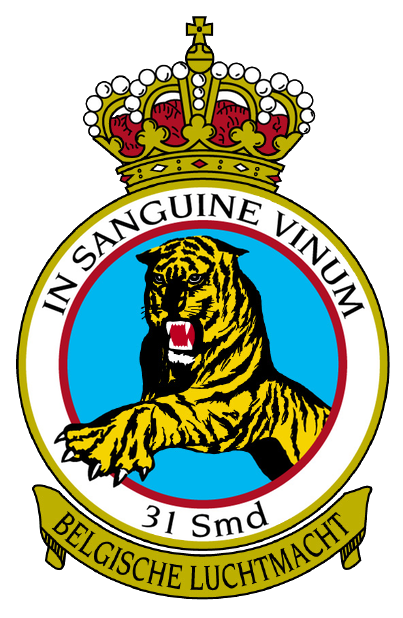 31 "Tigers" Fighter Bomber Squadron is one of the five F-16 Squadrons of the Belgian Air Component. Flying the F-16 MLU Fighting Falcon, "three one" is a Multirole squadron able to perform a wide array of operational missions. For the squadron, operationality is the top priority.
Other than that, the squadron is known for its traditions and the fact it's often still referred to as a Fighter Bomber squadron is a nice example of this. All the traditions can be traced back to the squadrons rich history, now spanning more than six decennia. In addition, as a Tiger squadron and one of the oldest members of the NATO Tiger Association, 31 squadron takes great pride in spreading the "Tiger Spirit" and honoring the traditions that come with it.
With their fighting spirit "May the enemies blood be our wine" ("In Sanguine Vinum") the 31 tigers will fulfill their job with pride and dignity in the 21st century.
As a multirole squadron, 31 can be tasked to perform Air to Air missions as well as Air to Ground missions.
In a nutshell, the Air to Air missions can be done to defend friendly territory from outsiders or to clear the way for bombers above enemy territory. The Air to Ground missions are mainly performed to slow down or eliminate enemy ground troops and ground based air defences. Fighters can also be "on call" to lend support to friendly ground troops having problems in the field.
31 squadron is part of NATO's High Readiness Forces and is permanently ready to fulfill these tasks in order to protect Belgian national airspace and territory, to support its NATO allies and to perform Peace Support missions under a United Nations mandate.